Through a partnership with Skyland Elementary School, The Women and Gender Resource Center offers two gender-based leadership programs, each with unique pillars customized to the needs of 4th and 5th graders in our community.
Applications are typically due in early September, though these deadlines are sometimes extended. Applicants will be contacted about training dates and times. Attendance at training is mandatory. Mentoring program registration is available online.
The Young Women Leaders Program
The Young Women Leaders Program is an excellent opportunity for college women to make friends, become engaged in their community, and to work as mentors with young girls.
In the program, we spend ten weeks in the fall doing our mentorship training. This training spans from social justice discussion and education, to the fundamentals of mentoring, and finally to professional development opportunities. We discuss feminist leadership, intersectionality, the socialization of gender, and many other topics. The training in the fall is there to help you learn about mentoring, but also to help you learn about yourself and the world around you.
In the spring we go to Skyland Elementary School to work as mentors with 4th and 5th grade girls. We have a variety of topics we cover, but each one relates back to one of our three educational pillars: connection, leadership, and identity. We discuss things like "What does it mean to be a girl?" and "What does it mean to be a leader?" We have fun with activities like building balloon towers to demonstrate the importance of teamwork, or doing Simon Says –style races in the school gym to demonstrate leadership. The kids are fun, engaged, and always bring something new and exciting to mentoring every week.
If this program sounds at all intriguing, please do not hesitate to contact our facilitator, Elizabeth Lester, at elester1@ua.edu or 205-348-5040 to learn more. Or, you can go ahead fill out the mentor registration online.
About the facilitator:
Elizabeth Lester is an Alabama native. She did her undergraduate degree in English Literature at Auburn University and received her master's in Women's Studies at the University of Alabama. Yes, her family was not happy about it. She lived in South Korea for a year teaching English, but missed American-style pizza so she had to come back. She loves to read, watch television series to the point of ignoring everything else, and to bake. She has over 100 houseplants and yes, it is a problem. Her favorite thing about the Young Women Leaders Program is the time she gets to spend with the mentors in the fall training and working with the children at Skyland.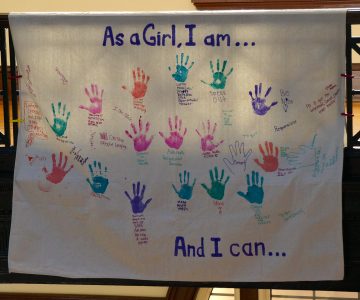 The Young Men's Leadership Program
The Young Men's Leadership Program is designed to create bonds between college men as they explore themes of strength, identity, and masculinity through mentorship and community engagement.  
Mentorship training takes place in the fall semester over the course of ten weeks. These fall trainings are utilized to better develop your skills in leadership, mentoring, and more importantly, offer perspectives that you may or may not have considered before. Topics discussed throughout the duration of fall training range from the implications of healthy and toxic masculinity, empathetic leadership, gender analysis, and much more.  
In the spring semester, we begin our ten-week program at Skyland Elementary School. Each week, you will work as mentors of boys from 3rd-5th grade and cover topics in line with the three pillars; identity, strength, and leadership. Points of discussion include "My strength is not for hurting." and "Thinking for ourselves", and are carried out through a series of physical activities, conversations, and role playing. At the end of the day, our hope is that we will plant seeds for a better future for these young boys on their journey through life.   
If you are interested in more information, please feel free to reach out to our Student Engagement Coordinator, Devon Longstreet, at djlongstreet@ua.edu or call 205-348-5040! Or, you can fill out the YMLP mentor registration online.  
About the Coordinator: 
Devon Longstreet is originally from Orlando, Florida. After completing his Bachelor of Social Work at the University of Alabama, he was invited to return to the Women and Gender Resource Center after his service as the Undergraduate YMLP Facilitator. When he is not at work you can find him binging Marvel Movies, traveling distant lands of Dungeons and Dragans, spending money on Star Wars collectables, and cooking for his friends. Devon's favorite thing about the Young Men's Leadership Program is seeing the bond between collage men grow throughout the program and the positive impact they have on the children at Skyland.