Momentum Women's Dissertation and Thesis Support group is a weekly informational and supportive group to answer questions and provide feedback during this challenging process. Group members increase skills, decrease a sense of isolation, and hold each other accountable for establishing and accomplishing goals. The group is offered year-round, but space is limited.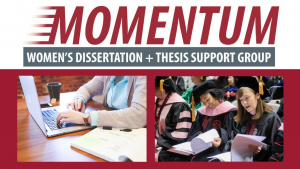 Fall Reception
The Momentum Fall Reception will take place on Wednesday, September 5 from 2:30-4 p.m. in the Anderson Room of the Ferguson Student Center. Graduate students and supportive faculty members are welcome to come learn more. Refreshments will be served.
Call 205-348-5040 or email Dr. Kathy Echols to reserve your spot in the group!