LGBTQ History month is celebrated across the US in October each year.
In 2019, we hosted Samantha Allen, author of Real Queer America: LGBT Stories from Red States. Her work focused on disputing popular myths about LGBT life in so-called "Red States" and showing the rich, happy, and varied experiences of queer people all across the United States.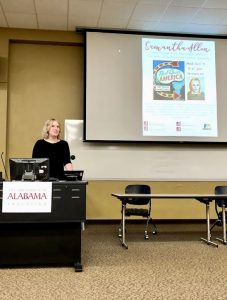 During LGBTQ History month in 2015, The Women and Gender Resource Center co-sponsored an art exhibit called Family Matters. The exhibit featured LGBTQ youth and statements about their families. In 2016, we hosted  a panel discussion called Out of the Closet and Onto Your Screen, which featured discussion about representations of LGBTQ individuals in movies and television shows. Our 2017 celebration included a screening and discussion of The Men's Story Project: Out Loud. In 2018, we hosted a film screening of Revival: Women and the Word in partnership with the Department of English and ASAP. Both The Men's Story Project: Out Loud and Revival: Women and the Word are now available in the Frances S. Summersell Library at the WGRC.
If you'd like to help keep discussions of LGBT History alive all year, consider donating a book to our Frances S. Summersell Library.