Each November, the Women and Gender Resource Center celebrates Native American Heritage Month. The WGRC emphasizes bringing attention to gender issues as they relate to Native Americans. Past activities have included film screenings, book discussions, and day trips to important historical sites.
Most recently we hosted Native American author, poet, and educator, Dr. Denise K. Lajimodiere. She came to discuss her book Stringing Rosaries: The History, the Unforgivable, and the Healing of Northern Plains American Indian Boarding School Survivors. Dr. Lajimodiere's work focuses on educating people on the atrocity of so-called "Boarding Schools" that existed across the United States and harmed generations of Native Americans.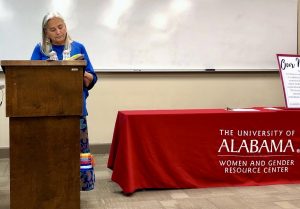 If you are unable to take part in the Center's programming for Native American Heritage Month, you can still take part in our efforts by donating a book to the Frances S. Summersell Library.