Each April, The Women and Gender Resource Center recognizes Sexual Assault Awareness by hosting a variety of educational programs.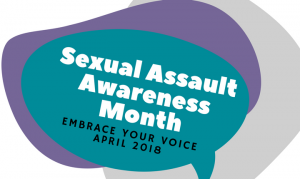 2018 Lineup:
April 9, 7:30p.m., Lloyd 133- Sexual Assault in the Trans Community with URGE
April 10, 7:30p.m., Denny Chimes- Take Back the Night
April 11, 1:00p.m., Ferguson Student Center Great Hall, Campus Dialogues with Crossroads
April 15, 6:30p.m., Bryant Conference Center- SAFE Center Philanthropy Banquet- for ticket information contact uanomc@gmail.com
April 16, 7:30p.m., North Lawn 2007- A #MeToo Series: Men as Allies and Survivors with The Student Leadership Council and Jason's Mens Honorary
April 18, 12:00p.m., Ferguson Student Center 3107- Bristlecone Project Film Screening- lunch provided, please RSVP to Zoe.Winston@ua.edu
April 26, 12:00p.m.- EveryWoman Book Club discussing "Hunger" by Roxanne Gay- cost of lunch $8, please RSVP to CPMiller1@ua.edu
Take Back the Night
Take Back the Night events are held across the country to unify communities to take a stand against gender based violence.
The Wounded Heart Gallery (Returning in 2018!)
This survivor art exhibit offers visual testimony to the impact of violence in our lives. Survivors and those who work with them are invited to use wooden hearts as vehicles of expression and healing. This inspiring exhibit invites everyone to bear witness and honor the healing power of the human heart.